Make a difference in the community.
We have joined forces with several high-impact local organizations to help people in the communities around us. Through financial support and volunteer service, the people of Northwoods are making a difference!
Explore opportunities to serve below!
Dream Center Peoria
Engage in a variety of high-impact ministries and meet practical needs in the city center, including an emergency shelter, thrift store, youth programs, and summer programs.
Adult & Teen Challenge: Peoria Men's Division
Evangelize and disciple men facing life-controlling issues of addiction by serving in a thrift store or as part of the annual fundraising banquet team.
Midwest Food Bank
Help alleviate hunger and poverty by gathering and distributing free food and relief to different groups and disaster sites. Prepare meal packets and package other items.
South Side Mission
Give away your time and compassion through multiple initiatives offering food, shelter, and clothing as well as spiritual guidance and life mentoring. Join home repair projects, too!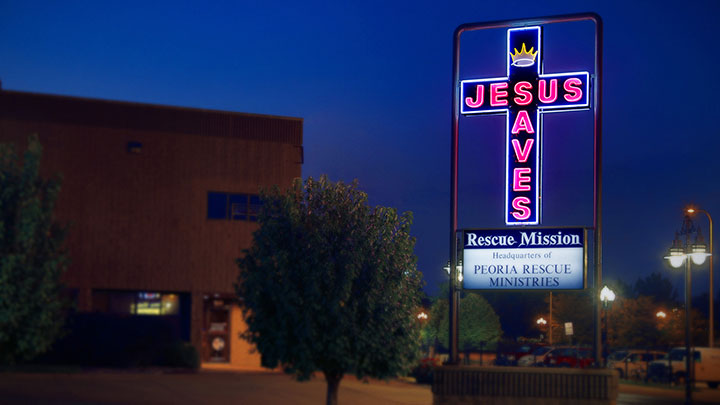 Peoria Rescue Ministries
Serve in a range of roles providing emergency services for men, recovery ministries for men and women, pregnancy and parenting services, counseling, and even vocational assistance.
Esther House
Teach, assist, and encourage women to make a positive, Christ-centered life change. Esther House is a long-term residential recovery program for women and women with dependent children.
Every child who receives an Operation Christmas Child gift also receives the Gospel message in their language. Gift boxes from Northwoods families have reached the far corners of the world.
Ready to serve?
Let us help you find a place to serve or get more information about any of these great partner organizations.
Donate to the Dream Center Hope Store
The Hope Store is part of the DCP Cares initiative to provide free clothing and household items to people in need in the Peoria area. We are excited to partner with them to bring hope and healing through the provision of these physical needs.
The Peoria Campus is a drop off location for Hope Store donations.